I have been lucky enough to have published four books in my career with one achieving best-seller status with my co-author Andy Lopata back in 2006!
One of the many things I have learned in the process of writing a book is that it takes far longer than you can ever imagine. I mean seriously how hard can it be???
The answer is that the process has so many mini processes within it most of them are obvious but only when you are actually doing them!
And with this book, we have the added challenge of lots of co-authors most of whom have never written a book before!
Buy your copy now, just £15.99 including postage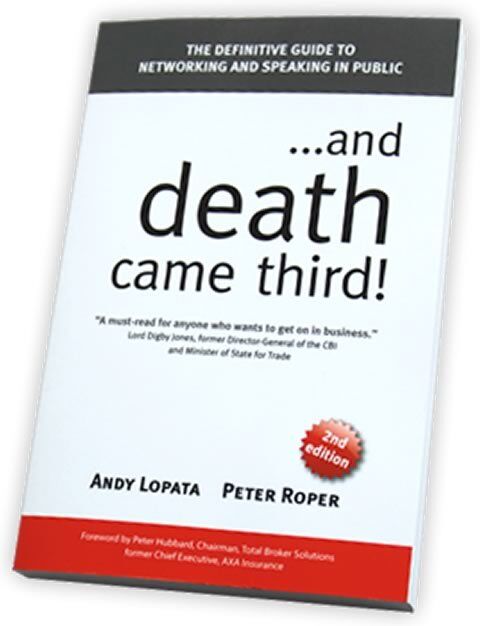 ...and death came third!
Do you dread going to networking events? Do you hide at the back of the room when you have the opportunity to present?
In 1984 a New York Times Survey on Social Anxiety placed death third in the list of people's biggest fears. The top two responses were walking into a room full of strangers and speaking in public. And death came third.

Buy '...and death came third! by Peter Roper' today for £15.99 and get FREE postage!

Running on Empty
Running On Empty contains personal case studies where Peter lays bare the challenges he faced in business, the effect it had and, more crucially, what to do if you face the same situation. Easy to read, simple to refer to and brutally honest, Running On Empty is packed with the must know conclusions Peter has drawn from his experiences and the Golden Rule he applies to business for this decade.
Buy 'Running on Empty by Peter Roper' today for £15.99 and get FREE postage!
The Reputation Game
You never get a second chance to make a first impression - but it's amazing how many so-called professionals play Russian roulette with their reputations. It's no longer down to word-of-mouth - the world wide web spreads information round the world in seconds. If you're in business you need to take the steps that will protect your reputation - as well as taking advantage of the means of enhancing it.
If you have staff, clients and suppliers you'll also want to be aware of what they are saying about you - and educate them to be effective marketers for your business.
This book will give you the ammunition you need to... take control of what is said about your business; effectively use the tools that will influence your reputation; plan, protect and promote your reputation on an ongoing basis; harness the power of your staff to enhance your reputation; raise your profile and stand out from the crowd; ensure you are playing the reputation game by the new rules.
Can you afford NOT to read it?
Buy 'The Reputation Game by Peter Roper' today for £15.99 and get FREE postage!