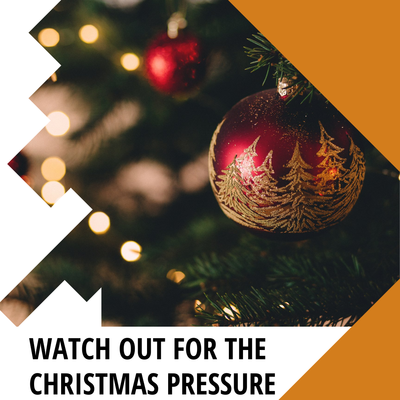 Christmas is the season to be merry, however the cost of achieving this can really pile the pressure on! It's not just the financial concerns many of us have at this time of year, it's the social and business pressures too. It's the need to balance work responsibilities with family life and it often results in stress, burnout and lack of festive cheer… But here are a four small things you can do to keep the pressure off this year!
Plan ahead
So many of us feel out of control this time of year and with so much to think of it's not really a surprise. Try creating a plan so that you remain in the driving seat throughout the Christmas season. Have a budget for gifts, plan a day or two for shopping, and keep a few evenings free for wrapping. You could even create a meal plan ahead of time – a proactive approach to Christmas can really make the difference!

Look after yourself
Always make time for exercise – it's a natural anti-depressant. Eat well and make sure you take vitamin D supplements now that the nights are drawing in. When we're busy it's easy to put ourselves on the backburner and focus on everyone and everything else, but if you self-neglect you'll quickly run out of energy!

Lower your expectations
Stop longing for the picture perfect holiday season, the truth is that it doesn't exist! Instead of trying to decorate your house to insta worthy levels, spend time with the family and create memories instead. I know a few families that have their Christmas turkey on Christmas Eve or Boxing Day and then just order a take away on Christmas day itself – this way they get a true day off and very little clean-up afterwards.

Relax
Even during the hustle and bustle of the holiday season, it's important to take a moment each day to breathe. Go for a walk, listen to your favourite music, read a book or take a nap. Whatever helps you feel relaxed and replenished make time for it and don't feel guilty - you do deserve some time off!

Christmas is just another day, and it shouldn't be at the expense of your wellbeing. Here at the practice, we all support each other and offer advice on how to tackle challenges throughout the year. Running a family business can feel very lonely at times, but it doesn't need to be that way. To learn more about the practice at our regular events please visit - https://www.familybusinesspractice.com/events/all