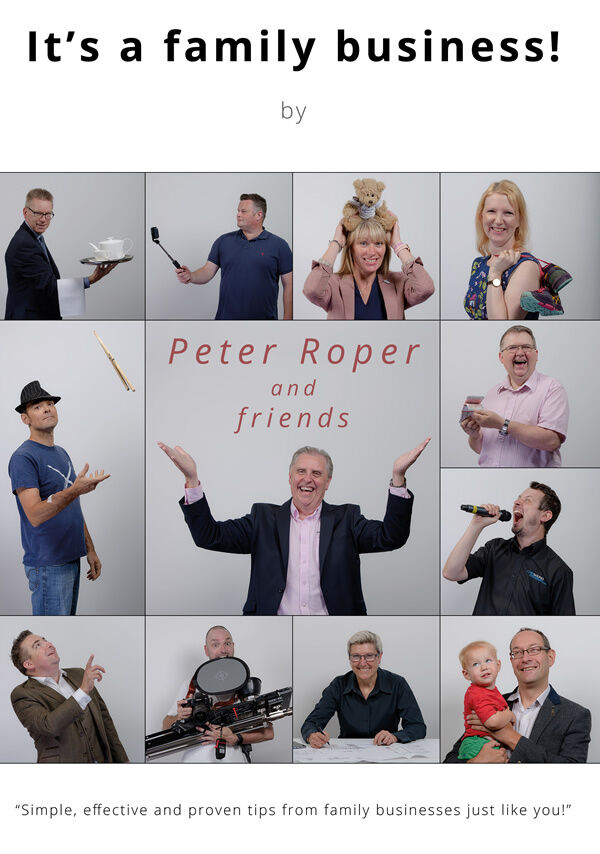 It's a family business!

Learn how to professionalise not corporatize your family business – simple, effective, and proven tips from family businesses just like yours!

Understand how to get more and better business from twenty-one members of the Family Business Practice. Read about the mistakes they have made, their successes and how they have adapted to produce stronger and more durable businesses.

PLUS, Peter Roper the Family Business Man provides nineteen key attributes he believes any business owner must-have for a profitable, sustainable, and enjoyable family business.

What's not to like?

Buy the book now and you won't be disappointed – go on you know you want to!

Buy your copy now, just £15.99 including postage
...and death came third!
Do you dread going to networking events? Do you hide at the back of the room when you have the opportunity to present?
In 1984 a New York Times Survey on Social Anxiety placed death third in the list of people's biggest fears. The top two responses were walking into a room full of strangers and speaking in public.

In its second edition, this multiple best-selling book by Peter Roper and Andy Lopata is the definitive guide on networking and speaking in public.

Thousands of people have benefited from this down to earth and practical book, originally published in 2006 becoming a best seller in just twelve hours…

"Powerful, practical and timely advice on both cultivating great networking relationships and speaking with confidence: two skills of vital importance in today's successful business person".
Bob Burg

"A must-read for anyone who wants to get on in business!" Lord Digby Jones

Buy '...and death came third! by Peter Roper' today for £15.99 and get FREE postage!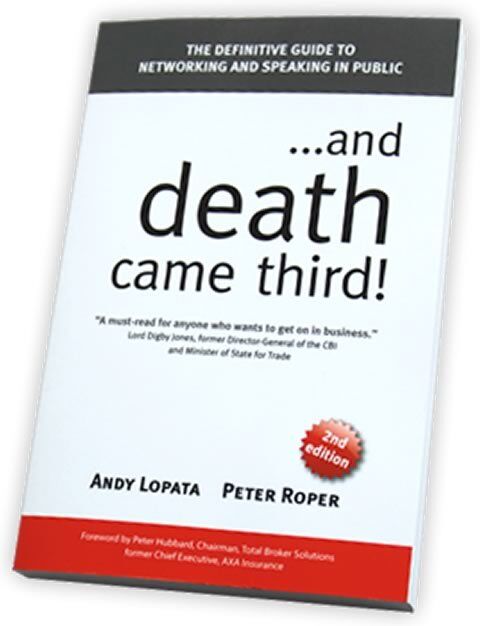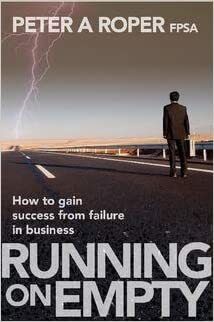 Running on Empty

How to gain success from failure in business.

After a successful corporate career, Peter Roper set up in business as a consultant. This book highlights the highs and lows of this journey specifically after going from hero to zero and back again after losing his business and nearly everything he held dear.

Running On Empty contains personal case studies where Peter lays bare the challenges he faced in business, the effect it had and, more crucially, what to do if you face the same situation.

Easy to read, simple to refer to and brutally honest, Running On Empty is packed with the must-know conclusions Peter has drawn from his experiences and the Golden Rule he applies to business for this decade.

Specifically, Peter highlights thirty-seven mistakes he made during this time, what he learned from them and how to avoid them yourself!

This very easy to read and practical book is a must for anyone who has a family business.

"Searingly honest and truly a man of our times" Julian Powell

Buy 'Running on Empty by Peter Roper' today for £15.99 and get FREE postage!