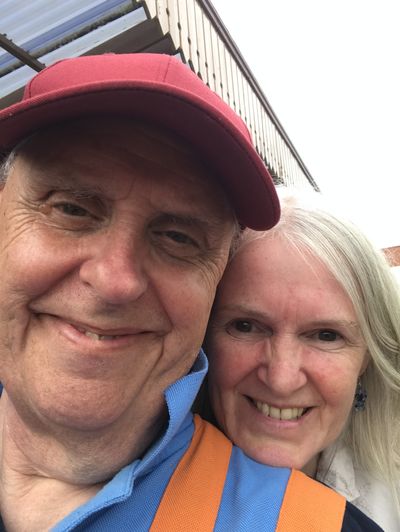 This morning Anny and I drove to the office in Cleobury Mortimer with the prospect of a very hot day.
The sun can bring the best and the worst out of us and this morning it seemed that I had a series of impatient drivers following me for the duration of the journey.
One person followed so closely I could see that their hair was flying in the breeze from their open windows, the furry dice bouncing round in all directions dangling from the rear-view mirror and sunglasses so large that they covered most of their head. Not too close at all really!
Meanwhile, the motorist behind both of us decided to pass on a bonkers tight stretch of road with time for one car, not two. On the bright side for them, however, was all their windows were up so they clearly have aircon….
We wondered if it made them any happier driving that way or was it just the heat making them act so poorly?
The end of July is always a funny time as week after week many individuals within their family businesses alternate with each other taking time off for holidays, primarily with children and grandchildren. The requests for business discussion in the service sector become far less. Many businesses seem to simply shut up shop until September and in fact, the Family Business Practice has never had events in August for this very reason.
Clients and prospects are not available or simply want something sorted very quickly with patience seemingly thin.
Folks seem simply not to be HAPPY… Either they are impatient to go on holiday, sad to have come back from holiday or don't see the opportunity for a holiday!
What's the point, Peter?
It's not surprising though really, is it???
This year has been particularly tough for all and frankly many individuals and organisations need a break. The school holidays, for a decent percentage of the population, give the opportunity to do so.
However how about you and your family business?
Is the business getting the break from you it needs and deserves?
How about those you employ or link with on a supplier/consultant basis?
How HAPPY are those connected with your business right now?
How HAPPY are you?
The three things that make people most HAPPY (according to a post on google, by eminent scientists apparently, so it must be true) are as follows…
PLEASURE (doing things you enjoy), ENGAGEMENT (feeling interested in your activities and connected to others) and MEANING (feeling like what you do matters).
Perhaps it is time to help the business, those connected with it and you by having a break and doing some things you enjoy and have PLEASURE doing it, however small…
Make yourself HAPPY and perhaps your business will be HAPPY too…
Just a thought…

Thank you so much for your kind words of encouragement and support during the year and we will be back hopefully refreshed and raring to take the Family Business Practice forward in a few weeks' time.
However, in the meantime: DO TAKE A LOOK AT MY NEW OFFER TO HELP YOU EITHER AS A FAMILY BUSINESS OR AS SOMEONE WHO SELLS TO FAMILY BUSINESSES - SCROLL BELOW
CLICK HERE to see the latest events and book on soon – you will be glad you did.
Go on you know you want to!
Until the next time…
Peter
Peter Roper The Family Business Man